The Renovated and Expanded Museum of Contemporary Art San Diego Has a Complicated Relationship With Its History
Source: Metropolis Magazine
The glassy, storefront entrance to MCASD's new La Jolla flagship by Selldorf Architects. IMAGE © NICHOLAS VENEZIA
Low-slung on a bluff overlooking the Pacific Ocean and conservatively clad in travertine panels, the museum's new project, by New York-based Selldorf Architects, greets visitors with a pavilion-like entry shaded by a massive Mission fig tree. Maybe it's the glass and aluminum storefront facade, or the gift shop positioned to the right of the ticketing desk, but the details smack of high-end retail. The vibe: minimalist, tasteful, functional. In short, everything that Venturi Scott Brown and Associates' (VSBA) weird, whimsically vaulted Postmodernist lobby is not.
Although a petition was circulated in 2018 to preserve all of VSBA's 1996 scheme, and critics, like myself, balked at the planned removal of their entry's cartoonish colonnade (more on that below), Selldorf Architects began the project four years earlier with little controversy. The New York City-based firm was tasked by the museum's board of directors (currently helmed by Paul E. Jacobs, former executive chairman of wireless giant Qualcomm, for whose family the museum's new Jacobs Wing is named) to add 30,000 square feet of exhibition space just south of a jumble of existing museum buildings. Despite multiple updates and additions over the decades to Irving Gill's original Ellen Browning Scripps residence (1914), the existing museum was just too small for a growing collection. A timeline provided by MCASD lists an international collectors' support group and a series of major bequests leading up to the commission. Of nearly 5,000 artworks, some 4,000 were in off-site storage.
"What sometimes happens is that board members grow up and they become more engaged and more ambitious," says Selldorf Architects founder and principal Annabelle Selldorf, stressing that the board wanted the museum to be a destination, not just from nearby San Diego, but from places like Los Angeles and New York as well. "They were aching for a real gallery space."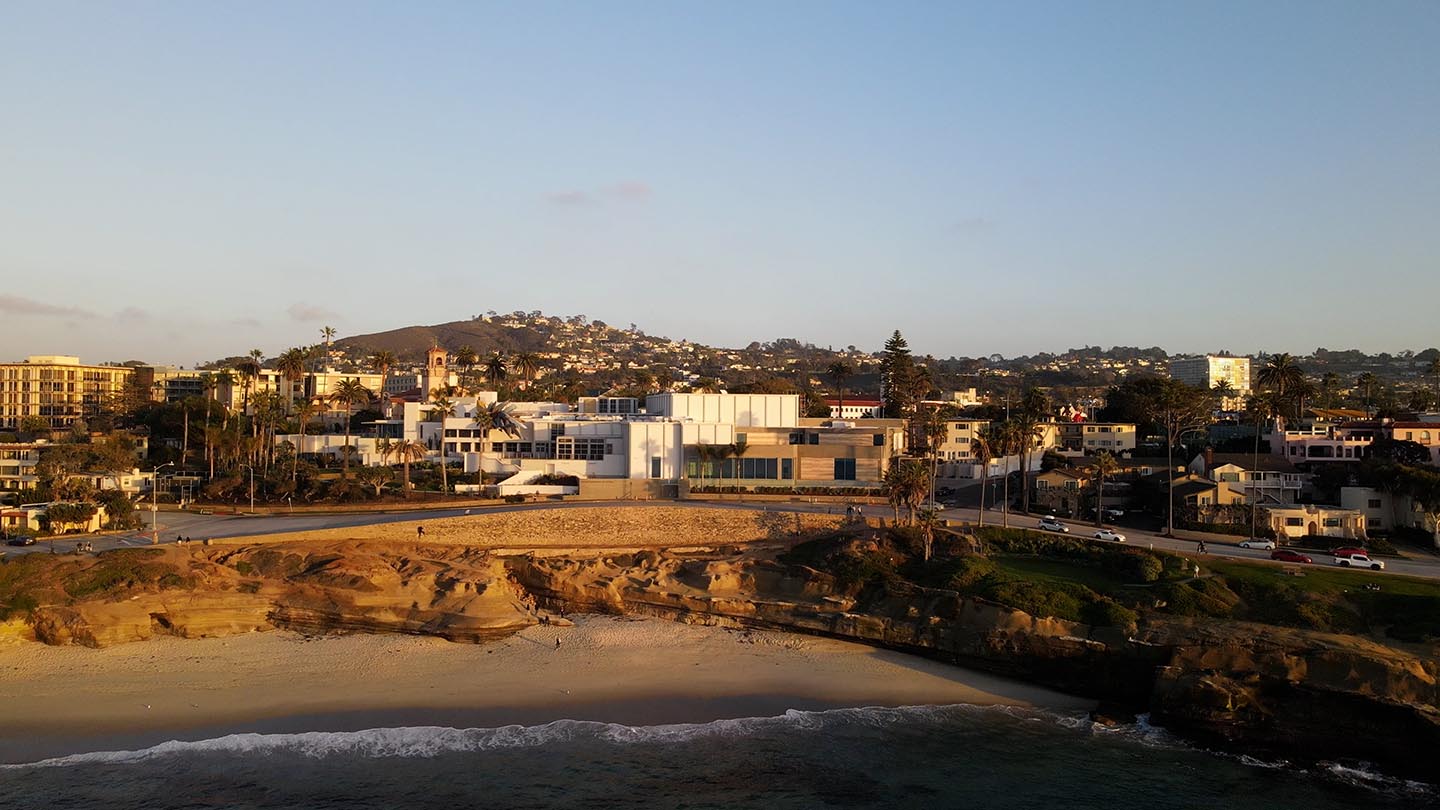 Such pressing need led the architects to add the two-story Jacobs Wing and retrofit the museum's original Sherwood Auditorium (designed by Mosher Drew Architects in 1960) into the Strauss Galleries, a suite of rooms with 20-foot-tall ceilings, where the exhibition Niki de Saint Phalle in the 1960s is currently on view. De Sainte Phalle moved to San Diego in 1990, and her piece, Madame, or Green Nana with Black Bag (1968), stands proudly in the reimagined gallery under a linear skylight carefully positioned to diffuse natural light over the artwork.
The transformation of a formal auditorium into signature galleries speaks to a steady shift within cultural organizations from pedagogical to event-based programming. "Museums are changing, they are not temples that only the initiated go to," notes Selldorf. Tucked behind the old auditorium is Jacobs Hall, a flexible event venue on the museum's lower level with sunset views, a nearby catering kitchen, and an outdoor terrace that connects to the sculpture garden, making it as suitable for performances and curator lectures as for weddings and donor cocktails. A second rentable venue, the Sahm Seaview Room, and a large outdoor patio called the Art Park, were added to the north side of the building, replacing an ill-placed parking lot.
Just over 46,000 square feet of new construction was added, nearly doubling the museum's overall square footage. The bar-shaped Jacobs Wing makes up the bulk of the project, gingerly stepping down the slope towards the beach in accordance with Coastal Commission height restrictions. Inside is a quartet of named galleries. Visitors pass from the entry pavilion via a long ramp reminiscent of an airport jetway—windows to the left, donor wall to the right. It's an unfortunate transition, especially since one disembarks into the beautifully austere Foster Family Gallery.
The palette is simple, akin to the kinds of repurposed industrial buildings that make sexy kunsthalles: velvety concrete floors, white walls, and 17-foot-high, cast-in-place concrete ceilings that make a rigid pattern of beams throughout the space. Sol LeWitt's Six-Part Modular Cube (1976) dominates the room, but some drama also comes from the floor-to-ceiling windows on the narrow, west-facing facade. These frame the Spanish Revival belltower of La Jolla Presbyterian Church across the street, with Gill's La Jolla Women's Club (1914-15) in the foreground, thus connecting a rather internalized architecture back to the city and its most celebrated architect.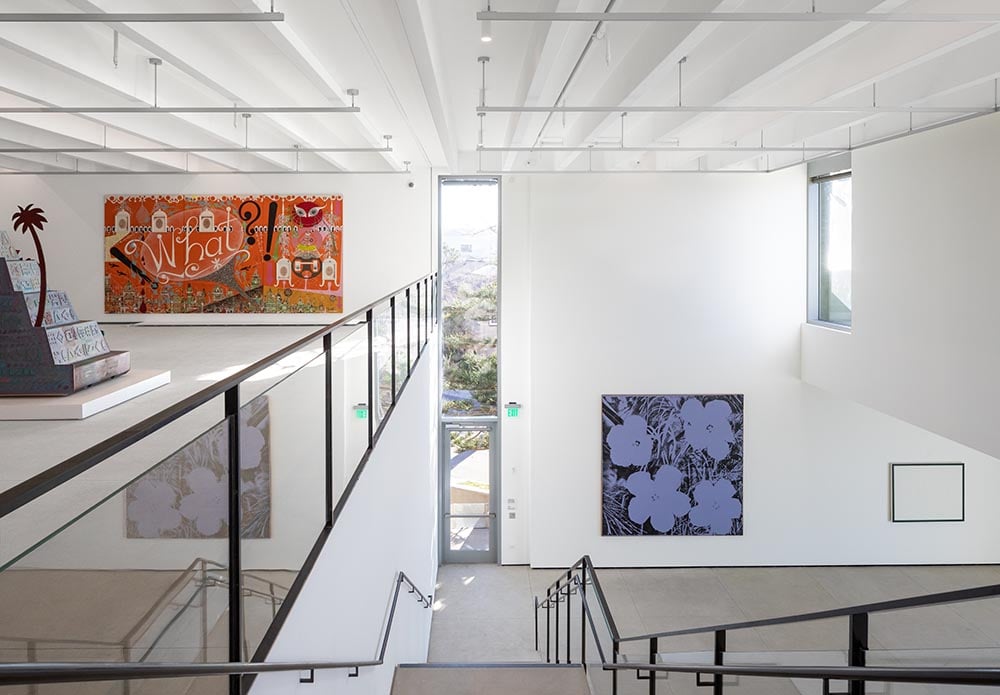 Other galleries within the Jacobs Wing proceed enfilade, each with a similar approach of understated materials and cleverly positioned windows, culminating in the double-height Cohn Gallery and an outdoor terrace overlooking the ocean. Artwork dominates architecture, despite the rigor of the latter. Selldorf, who has a knack for making strange assemblages of buildings make sense (see Hauser & Wirth in Los Angeles' Arts District), neatly knits the new wing into the old and resolves the changes in scale with a string of smaller, perfunctory galleries that wrap the former auditorium.
The standout gallery, however, delights because it is irregular. Trapezoidal and skylit, the Pfister Gallery is a geometry caught in-between. It's immensely satisfying to see Selldorf work this leftover into something more expressive than her reservedly posh approach to art spaces (like her designs for high-end mega-galleries David Zwirner or Hauser & Wirth). Museum director and CEO Kathryn Kanjo and associate curator Anthony Graham have dedicated this gallery to Light and Space artists, who have long been an essential focus for the MCASD. (Robert Irwin famously cut apertures directly into the museum's windows for his 1997-piece 1º2º3º4º.) Diamond Column, (1978), a monumental work by De Wain Valentine, sits in the middle of the room, directly at the axis of a steel pentagon that supports the skylight. Valentine calls his gray-blue polyester resin artwork "transparent colored space," and the phrase resonates with the architecture.
Pfister Gallery also harks back to the museum's Venturi Scott Brown-designed lobby. Wedge-shaped, with a Postmodern-meets-Baroque vaulted skylight edged in neon, it encapsulates their signature and has been thankfully preserved for education programs and renamed Axline Court. Selldorf says she wasn't conscious of the reference but suggests that both respond to the same character of the Southern California coastal light that inspired the Light and Spaces artists.
Regrettably, VSBA's entry colonnade was demolished as part of the renovation. It's difficult to see why it had to go. Selldorf and museum representatives note that it was in response to complaints that it was difficult to find the entrance, which in their scheme was placed behind the colonnade. Other explanations include that it was obscuring the stately simplicity of Gill's original facade. Denise Scott Brown has noted that her firm's now-defunct design was meant to tie the museum to the pedestrian, village nature of La Jolla. It also echoes the colonnade of Gill's La Jolla Women's Club across the street.
"It's been talked about a lot and, and has caused me a degree of heartache," notes Selldorf, who has since been in conversation with Scott Brown, and is currently working on a remodel of VSBA's National Gallery in London. "It was a learning experience," she says. "A tough one."
By removing the colonnade, Selldorf made room for an outdoor café edged with palm trees. On a sunny afternoon it screamed for umbrellas. One might suppose that if you want shade, you can walk a couple doors down to the La Jolla Historical Society, where a section of the colonnade has been installed in the backyard garden and planted with wisteria.
Renovations always mean letting go of some part of the past, but this one is particularly upwardly-mobile—more attuned to the language of the global art cognoscenti than a sleepy beach-town. The museum, so eager to make room for all its bright and shiny new acquisitions, has deaccessioned part of its history, which is now part of another collection.
Link to Original Article (may require registration) https://metropolismag.com/projects/museum-of-contemporary-art-san-diego-selldorf/