The Decade's Best Buildings in a Changing S.F.
Source: San Francisco Chronicle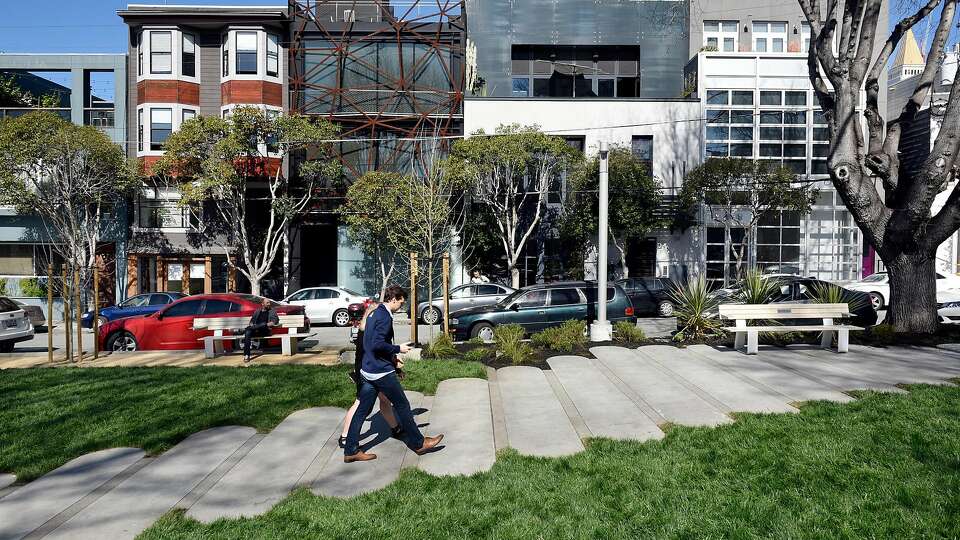 The decade's best buildings in a changing SF
12 structures and spaces that redefine San Francisco — and the lessons that they teach
Choosing the word that sums up the evolution of San Francisco's urban landscape these past 10 years is easy: profound.
After that things get real difficult, real fast.
Architectural trends can seem irrelevant in a region where the demand for housing is so strong and so many familiar haunts have been transformed. But if we ignore how our surroundings are treated, the physical qualities that make this place memorable could be undermined.
With that in mind, here's my take on the city's urban design high points since 2010. San Francisco is being remade before our eyes. Pausing to take stock can help raise standards in the decade to come.
1
181 Fremont
Stabbing at the heavens with old-school flair
2018
54 stories of offices and housing
Heller Manus Architects
181 Fremont St.
The obvious visual change over the last decade is the skyline – those few towers that stood south of Mission Street a decade ago now hide amid constructed ridges and peaks that planners mapped out long before the building boom.
But if the literal high point is Salesforce Tower, 181 Fremont is the people's choice. No wonder. As this 800-foot spike of housing atop officesjabs upward, braced by structural beams that form a visual cage, it hints at the old-school swagger that made skyscrapers fun in the first place.
2
Windsor at Dogpatch
A private project improves the public realm
2017
Six stories of housing and mid-block passage
Fougeron Architecture, Fletcher Studio
2660 Third St.
Profound change of another sort is found in areas like Showcase Square and Dogpatch — large but relatively low-rise housing complexes that in some cases are as long as a tower is tall.
This sophisticated yet playful complex is the most engaging, both for the pill-shaped wing clad in a nautical blue, which other architects already are copying, and for Ropewalk, the raffish mid-block passage. At once a bridge and a bioswale, it's the rare walkway that makes you want to linger.
3
8 Octavia
Welcome to the neighborhood
2015
Eight stories of housing
Stanley Saitowitz/Natoma Architects
8 Octavia St.
Hayes Valley, meanwhile, is where you'll find an abundance of recent, adventurous housing at neighborhood scale, such as this fitting portal by the always provocative Stanley Saitowitz. An eight-story wedge of concrete and glass pillowed in aluminum blinds with an icy-blue sheen, 8 Octavia shows that contemporary architecture can be blunt and urbane at the same time. Not a bad combination at all.
4
1645 Pacific
Faux history and genuine conviction
2014
Six stories of housing
BAR Architects
1645 Pacific Ave.
As an antidote to the infill norm — stocky boxes that wrap their product in a cookie-cutter modern skin — I present 1645 Pacific.
"What it comes down to is, I love ornamentation," one of the developers shrugged when we visited this art nouveau extravaganza where, among other things, sculptural aloe leaves cloak mammoth urns atop a single, opulent white bay. Though it's heartfelt rather than kitschy, we need more of this – new buildings that show real affection for the city around them.
5
Bill Sorro Community
Low-income housing that raises the bar
2017
Nine stories of housing
Kennerly Architecture & Planning
1009 Howard St.
San Francisco also needs more affordable housing, at all scales and in every neighborhood. What does get built, fortunately, often uplifts its surroundings as well as the lives of its residents.
That's the case at ever-sketchy Sixth and Howard streets, where a grandly scaled stack of apartments clad in deep masonry rises above a ground floor that includes a lively Nepali restaurant. Of all the worthy low-income housing complexes built in recent years, this one exudes the most confidence that better days might be ahead.
6
Pier 70
Everything old is new again
2018
Eight former industrial buildings constructed between 1886 and 1941
Marcy Wong Donn Logan Architects, Preservation Architecture
Pier 70
The preservation success story of the current boom is the ongoing restoration of Pier 70, a long-derelict industrial zone that began life as a steel works centered on a cluster of enormous masonry machine shops built as long ago as 1886.
Those buildings are now back in service, with relics like 50-ton bridge cranes still visible inside. The catch is that the two largest tenants are Uber and Juul – disquieting reminders that feel-good stories never are as simple as they seem.
7
South Park
A cozy oval in the middle of it all
2017
Makeover of public park last renovated in the 1960s
Fletcher Studio
Between Bryant, Brannan, Second and Third streets
There's no downside to the rejuvenation of public parks across the city. Thanks in part to voter largesse and generous neighbors, such upgrades make life better for everyone around them.
Amid the bounty, South Park stands out for the deft reinvention of a beloved but bedraggled oval. Simply done with sturdy plantings along a generous path, it reframes a historic setting now lined by everything from hedge funds to low-income housing. And with wheelchair-friendly pullouts included, it's inviting to all.
8
Transbay transit center
A futuristic work in progress
2018
Multi-block terminal topped by 5.4-acre park
Pelli Clarke Pelli Architects, PWP Landscape Architecture
425 Mission St.
Go ahead, scoff at this $2.16 billion transit center that will remain a glorified bus station until (if?) high-speed rail arrives below ground. Worse, it was open just six weeks until the discovery of two cracked girders shut it down for 280 days.
Yet this ebullient structure, topped by a seductive park, already shows the power of far-sighted planning. It replaced a grim hulk that deadened the blocks around it, helping to spark a revival that eventually will include 4,400 housing units – 30 percent of them reserved for lower-income residents.
9
Fire Station No. 16
Serving the public with well-tailored style
2019
Neighborhood fire station
San Francisco Public Works Bureau of Architecture
2251 Greenwich St.
For infrastructure at a far more modest scale, the decade brought gems like Cow Hollow's new fire station. It's a punchy cube tucked into a residential block, dark interlocked forms enlivened by red garage doors and a well-tailored retro tone.
Though efforts like this $14 million project tend to get little attention, they're essential to any city committed to providing the services that residents need. Deliver them with style, and it's a civic investment that will endure.
10
Lands End Lookout
Tough but also timeless
2012
Visitor center for Golden Gate National Recreation Area
EHDD, Surfacedesign
680 Point Lobos Ave.
Our best public building this decade is easy to miss – a visitor's center for the Golden Gate National Recreation Area perched on the bluff above Sutro Baths.
The setting is rugged and so is this outpost, deceptively simple with huge glass windows facing the Pacific bracketed by thick concrete walls. Add dunes covered in native vegetation and it's a spot to which you'll want to return.
11
Apple Union Square
An immaculate temple for the cult of Apple
2016
2 airy stories with restored plaza in back
Foster + Partners
300 Post St.
When the brand that makes a fetish of perfectionism hires the world's most meticulous starchitect, what do you get? Union Square's flagship Apple Store, with such touches as glass fiber ceilings backed by tiny LEDs to create "the softest form of light there is," said one Foster + Partners architect. Oh, and enormous sections of the glass wall that slide open when weather allows.
In a rich retail district with a startling abundance of vacant storefronts, this place is always crowded. I'd like to think the architecture is part of the appeal.
12
Pop-up urbanism
Urban renewal at bootstrap scale
2010
Parklets, protected bicycle lanes, you name it
Initial parklet concept by Rebar, now part of Gehl
All over the place
It seemed radical in 2010 when two Divisadero Street parking spaces were replaced by a platform where people could hang out. Now there are 58 such parklets in the city, and you find them in more than a dozen Bay Area cities.
If those parklets vary in quality, that's not the point. They reflect a grassroots urbanism that values space for pedestrians and bicycles over automobiles — a visceral counterpart to 20th century norms that continues to reshape the public realm in ways large and small.
Link to Original Article (may require registration) https://projects.sfchronicle.com/2019/decades-best-buildings/?fbclid=IwAR3fGNxu10Gr4MQxBrq2q-UeDBzonNAk7dMbOFHJCouimk8XdZPbbtUwj9w